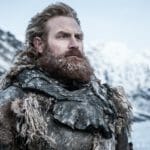 In today's society having a full and lush beard is becoming more and more of a fashion statement for men. While some men are born with thick facial manes, others require treatment to aid in thickening up their beards.
Not all men are lucky like actor Kristofer Hivju (photo), more popularly known as Tormund from the HBO hit show, Game of Thrones (most of the staff at the Groot DermaSurgery Centre are very big fans of Game of Thrones).
Dr. Thomas Nakatsui, a board certified Dermatologist and hair transplant specialists, has been performing hair transplants for over 18 years. The exact reasons why men come in for a beard transplant vary.
Some men want to increase thickness, while some men have suffered some form of trauma that caused an area to scar, therefore leaving a portion of facial hair missing.
As with any hair transplant, artistry plays a major role in how the end result turns out. Hair transplants need to look natural and undetectable in appearance. Old forms of hair transplants, "plug transplants", have yielded unnatural and very detectable results.
Having undetectable results is even more paramount whenever dealing with the face as it is always front and center. Any irregularities can be easily spotted.
To address this issue, Dr. Nakatsui follows the patient's natural flow, angle, and direction of their beard. If hairs are placed in any strange angle, it will become very apparent that a hair transplant was performed once the hairs have grown in.
The size of the graft is important as well. A graft is a natural grouping of hairs that come in 1, 2, or 3 hair bundles. Dr. Nakatsui typically utilizes the grafts with one hair when it comes to beard hairs.
Beard hair transplants can be a great tool to help thicken up a beard. One thing to consider before having a beard hair transplant is that the donor hair, which is usually taken from the back of the scalp, may have different texture and/or colour than the recipient bearded area.
Once the transplanted hairs are placed, it will hold the same characteristics as the area where it was taken from. If there is a significant difference between the donor hair at the back of your scalp and your beard hair, it can potentially become visible and unnatural.
The beautiful thing with a beard hair transplant if it is done correctly is that it now gives the individual the choice whether or not they want to grow a beard or be clean shaven.
Because of the incredibly small incisions that Dr. Nakatsui makes during the procedure, a patient can be cleanly shaven and have no trace of scarring to the area.
For more information regarding hair transplants, please visit drnakatsui.com.