Edmonton's Dermatology and Laser Skin Care Centre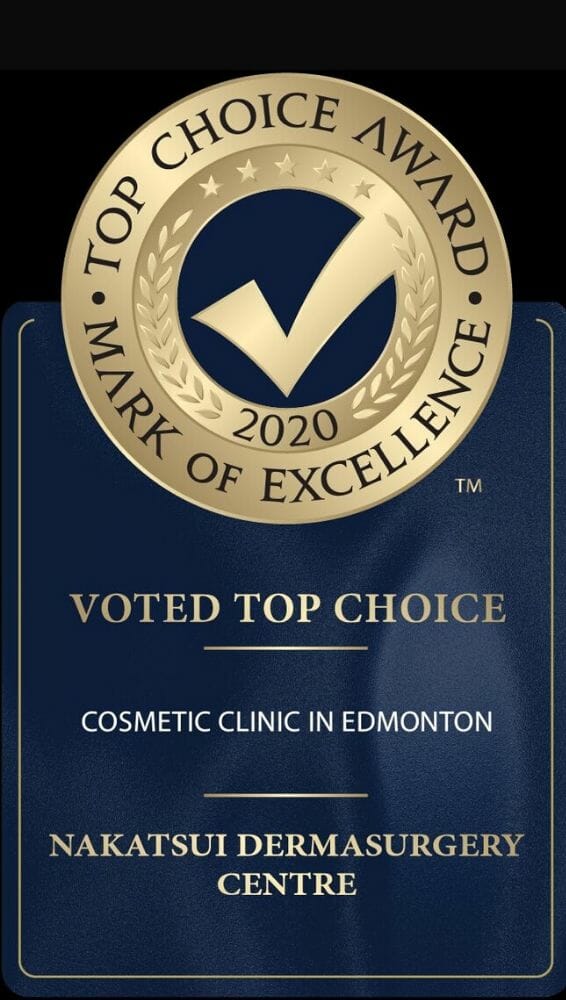 Award-Winning Cosmetic Clinic
Our dermatologist, Dr. Thomas Nakatsui, thanks you for voting Nakatsui DermaSurgery as the best cosmetic clinic in Edmonton! We truly appreciate this recognition and the association with the exclusive Top Choice Award circle of winners and the Consumer Choice Award circle of winners, as well as being recognized as one of the best dermatologists in Edmonton by ThreeBestRated.ca. This could not have been done without the dedication of our team and patients, and for that, we are very grateful to you all. Thank you for making us Edmonton's premier dermatology and laser skin care and rejuvenation centre.
Our Edmonton dermatology clinic was originally founded by laser pioneer and well-respected dermatologist and skin specialist, Doctor Don Groot, as the Groot DermaSurgery Centre (now Nakatsui DermaSurgery). His long time colleague, Board Certified Dermatologist Dr. Thomas Nakatsui, took the helm in 2014 and continues to work with a team of dedicated, experienced individuals who assist him in meeting patients' dermatology and skin care needs. Our nurses, some with advanced degrees and Advanced Cardiac Life Support (ACLS) certification, are highly skilled assistants to our doctors.
Our equipment and technology are state of the art and are used to rejuvenate the skin, treat skin cancers, and treat redness, pigment, and scar tissue. We are one of the most experienced CoolSculpting clinics in Edmonton and Dr. Nakatsui is one the most sought after injectors of Botox and fillers. As a result, he has repeatedly achieved Double Diamond status from Allergan, the makers of Botox and Juvederm, and is one of the few solo injectors to do so.
Did You Know it Takes 13 Years to Become a Dermatologist?
A dermatologist is a true skin care expert and skin and hair specialist with many years of training (typically 4 years undergraduate + 4 years medical school + 5 years dermatology residency) and accreditation from the Royal College of Physicians & Surgeons of Canada. Dr. Nakatsui did 3 years undergraduate + 4 years medical school + 6 years dermatology residency (1 extra year of dermatology research).
How Do I Know if My Doctor is a Dermatologist?
The following is a list of dermatologists in Edmonton, St. Albert, and Sherwood Park. If your doctor is not on this list, chances are quite high that he or she is not a dermatologist (or started after March 2020). As of March 2020, the list of dermatologists in Edmonton and surrounding areas includes:
Dr. Thomas Nakatsui
Dr. Eunice Chow
Dr. Marlene Dytoc
Dr. John Elliott
Dr. Loretta Fiorillo
Dr. Robert Gniadecki
Dr. Parbeer Grewal
Dr. Matthew Karpman
Dr. Chris Keeling
Dr. Anil Kurian
Dr. Tiffany Kwok
Dr. Chuck Lortie
Dr. Neel Malhotra
Dr. Jaggi Rao
Dr. Thomas Salopek
Dr. Mariusz Sapijaszko
Dr. Eric Schloss
Dr. Gordon Searles
Dr. Muba Taher
Dr. Zaki Taher
Dr. Russell Wong
How Many Laser Systems Do You Have at Your Clinic?
Our laser skin care clinic in Edmonton has over 19 lasers and energy based devices. Our
newest laser is PicoWay
, which is a picosecond laser for tattoos, pigment, and skin rejuvenation. Our clinic is always trying to stay at the leading edge of technology and currently you need a picosecond laser to be at the forefront. We are also excited about a new technology that will be arriving at our skin care centre soon. Our dermatologist has reviewed the most recent literature and gotten reviews from dermatologists using this new device and is excited to be bringing this to Edmonton soon.
Where is Your Skin Care Clinic Located?
Our skin care clinic is located in central Edmonton in the beautiful Crestwood area. We serve patients from all around Edmonton from Millwoods to Sherwood Park, Leduc, and St. Albert. We also have patients who live outside of Alberta but visit us regularly from places like Victoria, Vancouver, and Palm Springs. Our clinic also has abundant free parking.
What Services do you Offer?
Our skin care clinic offers both medical and cosmetic services. In terms of medical services, we treat all kinds of medical conditions, including acne, rosacea, warts, psoriasis, and eczema, as well as skin cancers such as basal cell and squamous cell carcinoma, and melanoma.
We also are a full service cosmetic clinic, offering the latest technology in anti wrinkle and anti aging skin rejuvenation from HydraFacials to fully ablative carbon dioxide laser resurfacing, as well as most things in between. We also offer chemical peels, micro needling, PRP, Botox, and CoolSculpting and Belkyra for fat reduction. We have radio frequency treatments such as Fractora and ThermiTight for tightening. Dr. Nakatsui also specializes in hair transplants for hair restoration.
We have the latest picosecond laser technology for brown spots and skin rejuvenation and we have multiple lasers for removing red spots, including the Vbeam Perfecta pulsed dye laser.