Dermal Facial Fillers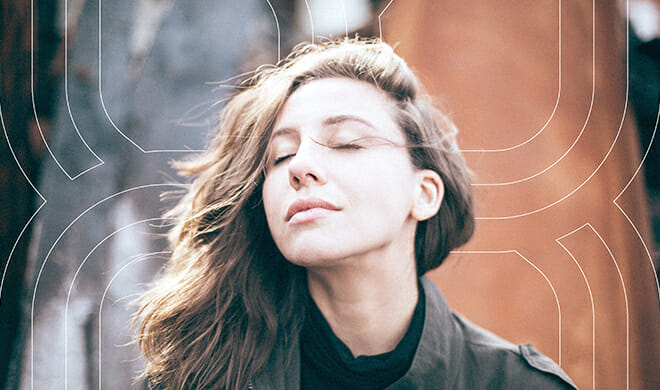 Juvederm, Revanesse, and Restylane Fillers for Anti Aging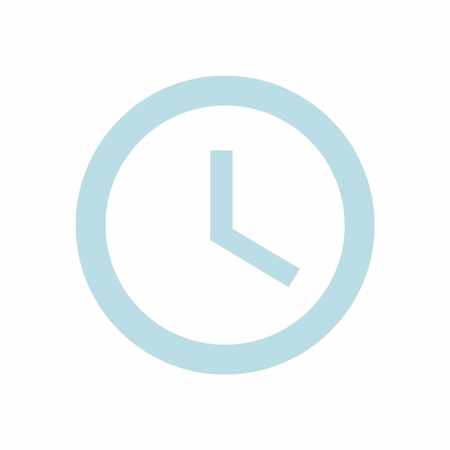 Sun exposure, hormonal changes, and aging can all have an impact on your skin's appearance. Over time, your skin begins to lose hyaluronic acid and collagen, resulting in fine lines, wrinkles, and a loss of fullness and elasticity.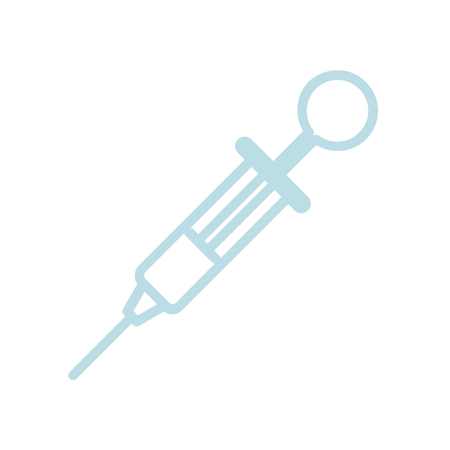 Dermal fillers are the best way to restore volume to these aging areas. At our Edmonton skin care clinic, our dermatologist personally injects between 12-20 syringes of filler per day.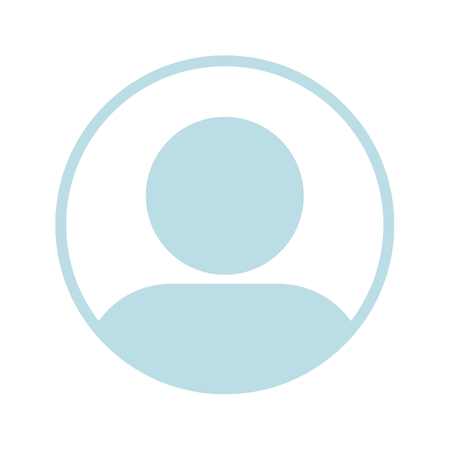 Fillers have become exceedingly popular because they can deliver a significant improvement and rejuvenation of your appearance yet remain completely natural looking.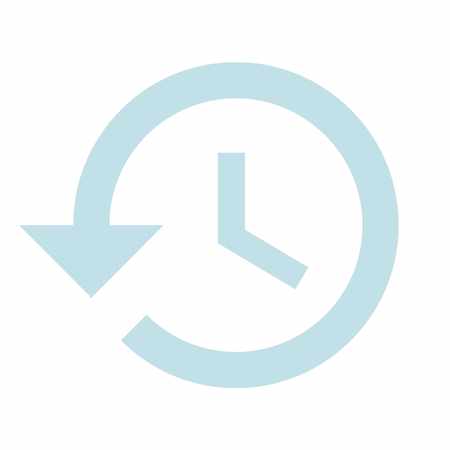 In addition, over the last 10 years, we have found that re-volumizing the face in areas that we previously ignored can have fantastic positive changes to the appearance of the face and neck. Fillers can be a very important component of anti aging as there are no other treatments that will revolumize the face.
What Types of Fillers Do You Use?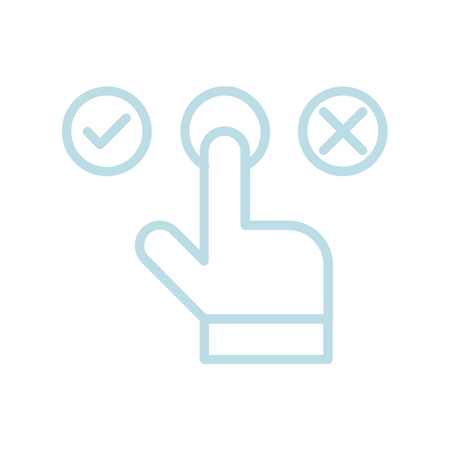 Juvederm ® by Allergan, Restylane ® by Galderma, and Revanesse ® by Prollennium are the facial fillers we most frequently use to replenish hyaluronic acid and collagen that has been lost during the aging process. They work by giving volume to your skin to minimize the appearance of wrinkles and thinning skin. They are also used to enhance and define lips, cheeks, chin, and jaw line. Hyaluronic acid injections have been shown to stimulate collagen production. Best of all, the results are usually instant, natural looking, and there is very little down time.
What Types of Fillers are There?
There are many different types of dermal fillers that have been used. Some of these are called semi-permanent fillers and these include fillers such as Radiesse, Bellafill (poymethylmethacylate or PMMA beads), silicone, and Sculptra. In the past, there were other semi-permanent fillers like DermaDeep and DermaLive, as well as Evolence, but these were eventually taken off the market because of unanticipated problems. Although our dermatologist will sometimes still use Radiesse, he prefers to stick with the hyaluronic acid fillers like Juvederm and Restylane because they do not have the long-lasting problems that the other fillers occasionally have. In addition, hyaluronic acid fillers can be dissolved if need be (whereas the others cannot) using an enzyme called hyaluronidase.
There is a reason why Juvederm is the most popular facial filler and why Restylane is not far behind.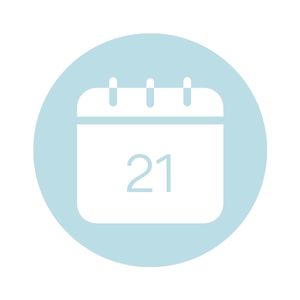 Dermal Fillers
---
See what dermal fillers can do to rejuvenate your appearance
Which Areas Can Be Treated with fillers?
Fillers can be used to treat very superficial fine lines and wrinkles, as well as deeper lines and wrinkles. Most importantly, it can be used to revolumize areas that have lost volume over time. As we age, we all lose elasticity and volume, eventually leading to a droopy appearance to our skin. Juvederm fillers can be used to improve loss of volume in the temples, glabella (frown) lines, nasal furrows, marionette lines, cheeks, lips, nose (non-surgical rhinoplasty), and chin, and can be used to improve scars including acne scars. It can also be used to improve the appearance of thin earlobes. Just like other parts of the face, the earlobes can lose volume and fillers can rejuvenate the appearance of this area as well.
Fillers are also frequently used to contour the jawline from the angle of the mandible to the chin. One beneficial side effect to jawline and chin contouring is that it can also lessen the appearance of a double chin in some patients. Non surgical jawline reshaping is a very effective treatment modality.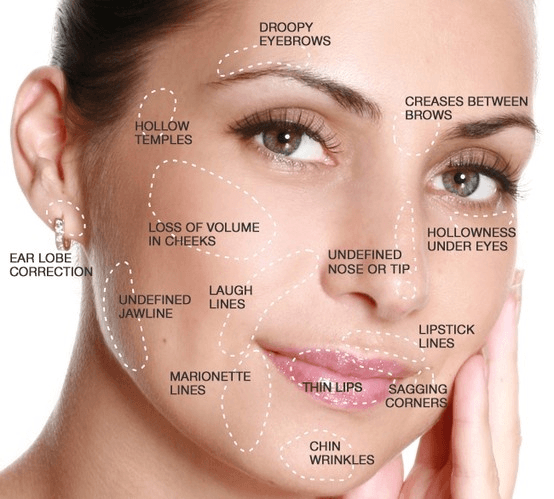 What Are the Most Common Areas That Are Injected?
In the past, the answer was fairly easy. The most common injection was lip fillers, although an argument could be made for injections of the nasolabial folds and marionette lines.
The answer today is a little more complicated as we are doing way more facial fillers than we ever did before…and the difference in the before and after photos is way more substantial than they ever were before.
Lip injections still may be one of the most common sites but fillers of the cheeks might now be the most common site that our dermatologist, Dr. Nakatsui does. In addition, under eye fillers, chin fillers, temple fillers, and jawline contouring have also become extremely popular.
It is amazing in many ways how significant a benefit can be achieved with cheek fillers and chin fillers when we never used to do them at all 15 years ago.
Facial Filler Before and After Example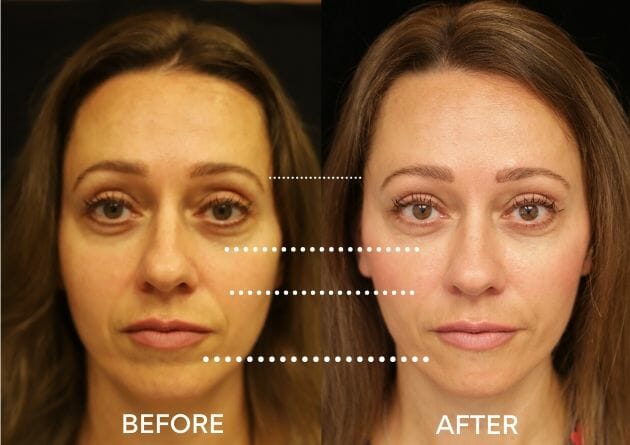 In this example, our patient wanted to improve the loss of volume in nasolabial folds and under the eyes. Our dermatologist advised some fillers to the temples, cheeks, areas under the eyes, nasolabial folds, and chin to give her some improvement to her facial shape and to revolumize some of areas of deflation.
If we look at each area separately, you can see the subtle but significant improvements. Looking at her chin, we can see that the chin has become less squared off and a little more tapered, softening the appearance of this area. In addition, the chin crease below her lower lip has softened significantly, smoothing out this area.
Looking at the temples, Dr. Nakatsui restored some of the lost volume into this area, lifting this area and restoring some of the smooth contour using Juvederm Voluma. A side benefit to this is a slight lifting of the lateral brow.
Looking at the cheeks, Juvederm Voluma was also placed into the lateral and central cheeks, lifting the cheek and improving the nasolabial fold. It also restores the convexity of the cheek, making it look more youthful. A side benefit is a slight raising of the lateral canthus of the eye. Filler in cheeks also helps with some of the tear troughs although Juvederm Volbella also had to be placed into the tear troughs to smooth out some of the tired look in this area.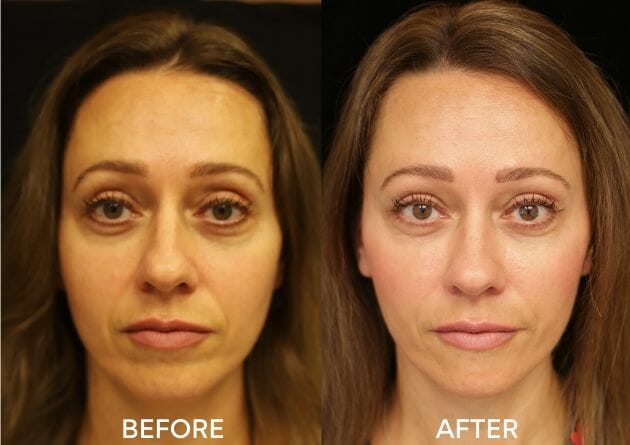 Taking all of this together and looking at the outer contour of the face, fillers have improved the overall shape of the face with smoothing of the temples and slight tapering of the chin. Fillers also improved the convexity and smoothness of various areas, including the chin, cheeks, and nasolabial folds, all in one procedure. More improvement could be achieved in a second session.
Dr. Nakatsui, thanks for recommending Juvederm Volbella® for my dark circles and Voluma® to 'lift up my cheeks'- I love the effect. The shadows under my eyes which were beginning to track down to my chin are not so obvious. The result is so natural; I don't think anyone has really noticed. But I know that I don't look so tired anymore.

H.M.
**The testimonials presented on any of our Company's websites are applicable to the individuals depicted only and may not be representative of the experience of others.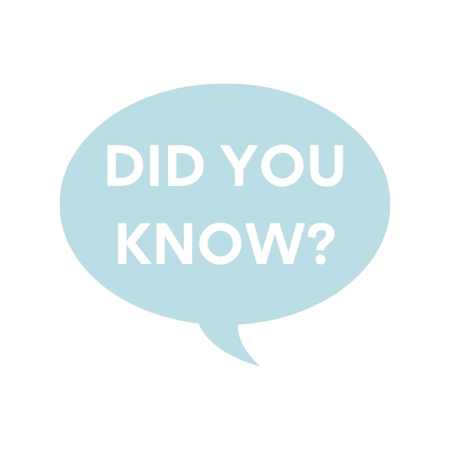 Our dermatologist, Dr. Nakatsui, has been performing filler injections at our skin care clinic in Edmonton for over 20 years.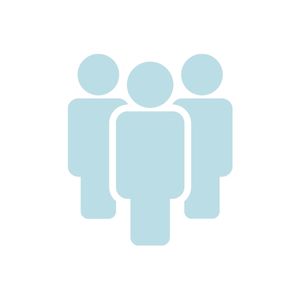 In addition to Dr. Nakatsui, we also have a carefully selected group of nurse injectors who have been personally trained by Dr. Nakatsui in his methods and techniques
Quick Facts about fillers
Description: Soft tissue facial fillers such as Juvederm and Restylane are injected into the skin to enhance soft tissue volume, diminish wrinkles, and fill in depressed areas such as scars. These are most commonly used for lip injections, and for filling the nasolabial folds, but are often used in other areas, such as the marionette lines, jawline, chin, cheeks, and temples. At our Centre we inject hyaluronic acid-based fillers. Longer-lasting injectables with microscopic particles are more risky in that granulomas, placement errors, migration, and possible necrosis are more likely.
Brands: There are many brands on the market currently. Some examples include Juvederm, Restylane, Voluma, Volbella, Emervel, Teosyal, Bellafill, Sculptra, and Revanesse. Your doctor will help you choose which one is best for you.
Average Cost: $300.00 – $2,000.00. The cost of a treatment will vary depending on your specific needs and the area being treated.
Length of Procedure: 15 to 30 minutes depending on the number of areas treated.
Recovery Time: Zero to 10 days, depending on filler and area treated.
Treatment Frequency: On average, one to two times a year depending how quickly the filler is metabolized and which filler is being used. In some areas of the face such as cheeks, the filler will last much longer, whereas lip injections last a shorter duration.
Risks: Temporary bruising, swelling, possible infection with temporary fillers.
Duration of Results: Temporary fillers last from three to six months or more. Some types of filler will last for a year or longer.
Frequently Asked Questions
Hyaluronic acid (HA) is a natural, complex sugar found in all living cells and an important component of the skin, along with collagen and elastin. HA retains water like a sponge, absorbing more than 1,000 times its weight. This helps to attract and maintain water, hydrating your skin and increasing its volume and density.
Juvederm ® is a family of facial fillers made from a hyaluronic acid that smooths wrinkles and restores volume with little to no down time. It is the most popular filler and it is made by Allergan, the makers of Botox.
There are several different types of Juvederm, each with different consistency and longevity. Some are better suited for volumizing the cheeks whereas other are better suited for enhancing the lips; some may last only 4-6 months, whereas others may last 12-18 months. At your consultation, Dr. Nakatsui can advise you which types might be best for your needs.
What Is Vycross Technology?
Vycross ® technology is the latest innovation in the Juvederm family of products. This new innovative technology uses a combination of 90% low and 10% high molecular weight hyaluronic acid with a cross-linked formula stronger than any dermal fillers before it. This special hyaluronic acid takes much longer for the body to break down, meaning longer lasting results. Most other hyaluronic acid fillers are primarily high molecular weight hyaluronic acid because we initially thought that the high molecular weight hyaluronic acid would last longer. As with many things in life, what we assume to be true is actually incorrect.
The next generation of dermal fillers have arrived – smoother and longer lasting than ever before. There are five fillers that use Vycross technology: Voluma, Volbella, Volux, Volite, and Volift.
Voluma – restores volume to chin, cheeks, and cheekbone. Lasts 12 months or more.
Volbella – designed specifically for natural-looking lip augmentation. Lasts up to 12 months.
Volift – for lips and nasolabial folds. Last 12 months or more.
How Long Before Results Are Seen?
Results are instant. You will see an immediate improvement in the treatment area. Most people need one treatment to achieve an optimal outcome. Supplemental "touch-up" treatments may be required to achieve and maintain the desired look.
Are The Treatments Painful?
The injections are performed using a fine needle to reduce injection discomfort. Juvéderm® and Voluma® have a local anesthetic mixed into the solution which helps to minimize any discomfort.
What Are The Possible Side Effects?
Inflammatory reactions such as redness, edema, and/or erythema may occur, which may be accompanied by stinging, pain or pressure. These reactions may last up to one week
Swelling or nodules may develop at the injection site
Bruising at the injection site
Very rare cases of discolouration of the injection site have been reported
Rare cases of necrosis in the glabellar region. Abscess, granulomas or hypersensitivity have been reported after injections of hyaluronic acid
What Is The Recovery Time Following A Treatment?
A treatment with dermal fillers requires minimal downtime and most people return to their normal routines immediately.
What Is The Cost of Fillers?
The cost of fillers varies with the amount of filler injected and the type of filler used. For longer lasting fillers such as Volbella, Volift, and Voluma, we charge $650-700 per syringe.
What Is The Difference Between a Monophasic and a Biphasic filler?
Biphasic fillers (e.g. Restylane) contain a range of particle sizes, while monophasic fillers (e.g. Juvéderm) contain homogeneous particle sizes. Monophasic HA fillers appear to be more cohesive and may not migrate as much as biphasic fillers, although the two types of fillers seem to be equally durable. In addition,
monophasic fillers seem to be less affected by needle diameter when injected.
Are there any issues with COVID-19 vaccinations and dermal fillers?
There is a potential risk of transient facial or lip swelling in patients with dermal fillers who received a COVID-19 vaccination. These reactions are temporary and resolve within 48 hours to 1 week.
In December of 2020, the FDA reported that three patients who had previously had hyaluronic acid dermal fillers developed transient facial or lip swelling after receiving the Moderna vaccine. This reaction may also occur with any COVID-19 vaccine. These reactions have all been self-resolving and successfully treated.
The general convention is to space vaccinations and hyaluronic acid dermal fillers apart by two weeks. For more information, please read our blog post on the Canadian Dermatology Association recommendations.
Appointments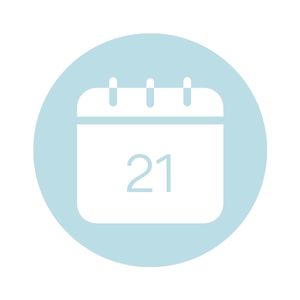 If you would like to learn more about how dermal fillers can help you, call Nakatsui DermaSurgery at 780-482-1414 to schedule a complimentary consultation or contact us via email using the following link.