Edmonton's Dermatology and Laser Skin Care Centre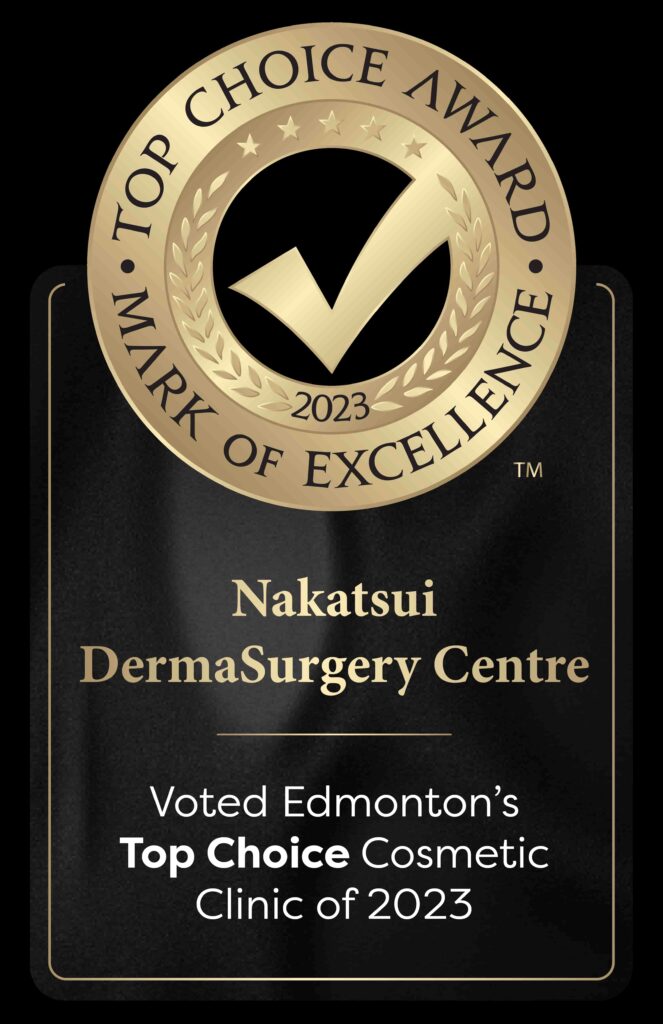 Our dermatologist, Dr. Thomas Nakatsui, thanks you for voting Nakatsui DermaSurgery as the best cosmetic clinic in Edmonton in 2019, 2020, and 2023! We truly appreciate this recognition and the association with the exclusive Top Choice Award circle of winners and the Consumer Choice Award circle of winners, as well as being recognized as one of the best Edmonton dermatologists by ThreeBestRated.ca. This could not have been done without the dedication of our team and patients, and for that, we are very grateful to you all. We have the best patients in Edmonton! Thank you for making us Edmonton's premier dermatology and laser skin care and rejuvenation centre.
Our laser skin care and dermatology clinic was originally founded by laser pioneer and well-respected Edmonton dermatologist and skin specialist, Doctor Don Groot, as the Groot DermaSurgery Centre (now Nakatsui DermaSurgery). His long time colleague, Board Certified Edmonton Dermatologist Dr. Thomas Nakatsui, took the helm in 2014 and continues to work with a team of dedicated, experienced individuals who assist him in meeting patients' dermatology and skin care needs. Our dermatology nurses, some with advanced degrees and Advanced Cardiac Life Support (ACLS) certification, are highly skilled assistants to our doctors.
Our equipment and technology are state of the art and are used to rejuvenate the skin, treat skin cancers, and treat redness, pigment, and scar tissue. We have not only one, but two different methods for reducing fat: EvolveX Transform and Coolsculpting. We are also one of the most experienced CoolSculpting clinics in Edmonton and Dr. Nakatsui is one of the most sought after injectors of Botox and fillers. As a result, he has repeatedly achieved Double Diamond status from Allergan, the makers of Botox and Juvederm, and is one of the few solo injectors in Canada to do so.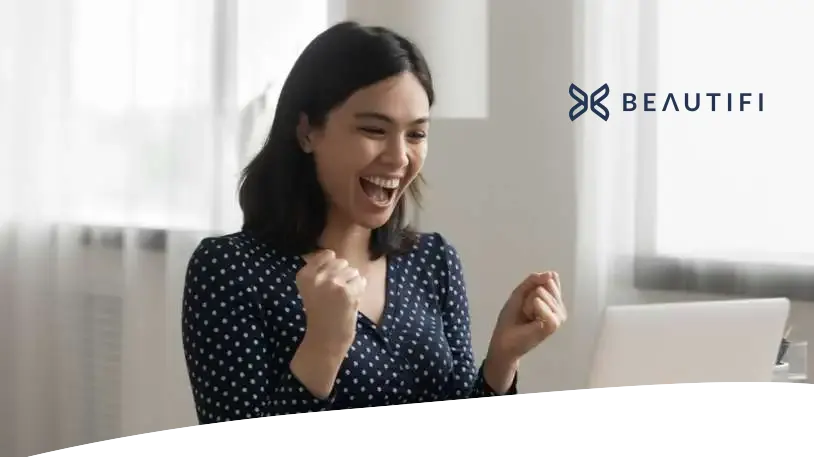 PLASTIC SURGERY, MEDICAL & COSMETIC PROCEDURE FINANCING AVAILABLE
Enjoy flexible financing for elective procedures not covered by healthcare plans.
As one of the premier medical procedure and surgery financing companies, Beautifi's goal is to make cosmetic surgery financing affordable on any budget. Our 100% online financing process makes getting plastic surgery loans or loans for other medical procedures in Canada fast and easy.
Frequently Asked Questions
How Do I Know if My Doctor is a Dermatologist in Edmonton?
The following is a list of every
dermatologist Edmonton, St. Albert, and Sherwood Park
has to offer. If a doctor is not on this list, he/she is likely not a bonafide dermatologist. A dermatologist is the best type of doctor to evaluate and treat your skin. As of December 2022, the list of dermatologists and dermatology clinics in Edmonton, St. Albert, and Sherwood Park includes:
Dr. Eunice Chow, Kaye Edmonton Dermatology Clinic
Dr. Marlene Dytoc, Kaye Edmonton Dermatology Clinic
Dr. John Elliott, Kaye Edmonton Dermatology Clinic
Dr. Andrew Ferrier, Stratica Medical, Edmonton
Dr. Loretta Fiorillo, Kaye Edmonton Dermatology Clinic
Dr. Mariah Giberson, Stratica Medical, Edmonton
Dr. Robert Gniadecki, Kaye Edmonton Dermatology Clinic
Dr. Parbeer Grewal, Rejuvenation Dermatology, Edmonton
Dr. Matthew Karpman, Rejuvenation Dermatology, Edmonton
Dr. Chris Keeling, Symmetry Dermatology, Edmonton
Dr. Anil Kurian, Vida Dermatology, Edmonton
Dr. Tiffany Kwok, Rao Dermatology/Alberta Dermasurgery Centre, Edmonton
Dr. Maninder Longowal, Rejuvenation Dermatology, Edmonton
Dr. Chuck Lortie, Park Dernatology, Sherwood Park
Dr. Maninder Longowal, Rejuvenation Dermatology, Edmonton
Dr. Neel Malhotra, Skin Physicians, Edmonton
Dr. Jaggi Rao, Rao Dermatology/Alberta Dermasurgery Centre, Edmonton
Dr. Thomas Salopek, Kaye Edmonton Dermatology Clinic
Dr. Mariusz Sapijaszko, Youthful Image, Edmonton
Dr. Michael Samycia, Symmetry Dermatology, Edmonton
Dr. Gordon Searles, Searles Dermatology and Aesthetics, Edmonton
Dr. Ali Shabhaz, Stratica, Edmonton
Dr. AnneLiese Smylie, Symmetry Dermatology, Edmonton
Dr. Muba Taher, Edmonton Dermatology and Skin Surgery Centre
Dr. Zaki Taher, Lucere Clinic, Edmonton
Dr. Zohair Tomi, Tomi Derma, Edmonton
Dr. Norm Wasel, Stratica Medical, Edmonton
Dr. Eric Wong, Rejuvaderm, Edmonton
Dr. Russell Wong, Rejuvenation Dermatology, Edmonton
How Many Laser Systems Do You Have at Your Clinic?
Our laser skin care and dermatology clinic in Edmonton has over 27 lasers and energy based devices. Our newest laser is PicoWay, which is a picosecond laser for tattoos, pigment, and skin rejuvenation. Our Edmonton dermatology clinic is always trying to stay at the leading edge of technology and currently you need a picosecond laser to be at the forefront.
In 2022, we also introduced our newest skin tightening modalities, Accutite and Facetite, which are minimally invasive techniques to improve sagging eyelids, jowls, and submental areas.
We also recently introduced our newest technology modality, electricity! Electricity has now been harnessed into billionths of a second pulses to treat stubborn warts and benign skin lesions. You can learn more about CellFX here.
In late 2020, we introduced a fantastic new treatment for skin rejuvenation and skin resurfacing called Opus Plasma resurfacing and we are the first clinic in Western Canada to have this! We also introduced a more advanced type of RF microneedling called Morpheus8 for skin tightening and for treating acne scarring.
And that's not all…there are even more new treatments coming in the next month or two. Stay tuned!
Where is Your Skin Care Clinic Located?
Our laser skin care clinic is located in central Edmonton in the beautiful Crestwood area. We serve patients from all around Edmonton from Millwoods to Sherwood Park, Leduc, and St. Albert. We also have patients who live outside of Alberta but visit us regularly from places like Victoria, Vancouver, and Palm Springs. Our clinic also has abundant free parking.
Crestwood Centre is home to many fantastic stores and amenities, including The Skin Enhancement Centre, Allegro Italian Kitchen, Alligator Pie, Bella Casa Design Centre, Cafe Blackbird, CareIt Urban Deli, Celebrity Hair, Cobs Bread, Crestwood Apothecary, Crestwood Family Dental Centre, Crestwood Fine Wines and Spirits, Delux Burger Bar, Eye to Eye Optometry Clinic, Harlow Crestwood, My Filosophy, One Village Family Chiropractic Community, Paramount Cleaners, Yu Fashion, and the TD Bank.
What Services do you Offer?
Our Edmonton dermatology and skin rejuvenation clinic offers both medical and cosmetic services. In terms of medical services, our Edmonton dermatology clinic treats all kinds of medical conditions, including acne, rosacea, warts, skin tags, seborrheic keratoses, sebaceous hyperplasia, psoriasis, and eczema, as well as skin cancers such as basal cell and squamous cell carcinoma, and melanoma.
We also are a full service cosmetic dermatology clinic, offering the latest technology in anti wrinkle and anti aging skin rejuvenation from HydraFacials to fully ablative carbon dioxide laser resurfacing, as well as most things in between. Our newest, most exciting resurfacing option is Opus plasma resurfacing for skin rejuvenation.
We also offer chemical peels, micro needling, PRP, Botox, and fillers. We offer CoolSculpting, Evolve Transform body contouring, and Belkyra for fat reduction. We have radio frequency treatments such as Fractora, Morpheus8 and Morpheus8 Body, Accutite & Facetite, and ThermiTight for skin tightening. Dr. Nakatsui also specializes in hair transplants for hair restoration.
We have the latest picosecond laser technology for brown spots and skin rejuvenation and we have multiple lasers for removing red spots, including the Vbeam Perfecta pulsed dye laser.
How Long Does it Take to Become a Dermatologist?
The best answer is 13 years on average. A dermatologist is a true skin care expert and skin and hair specialist with many years of training (typically 4 years undergraduate + 4 years medical school + 5 years dermatology residency) and accreditation from the Royal College of Physicians & Surgeons of Canada as a dermatologist. Dr. Nakatsui did 3 years undergraduate + 4 years medical school + 6 years dermatology residency (1 extra year of dermatology research).
After completing this training, the graduate can then complete the qualifying examinations in Canada (and the USA if desired), and if he or she passes, becomes board certified in Canada (and/or the USA).
Our Latest Blog Posts: