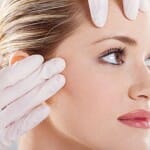 Are you always asked, "Why are you angry?", even though you may not be angry in that moment? Vertical lines in between our eyebrows (Glabella) can often give the appearance of anger or frustration. Squinting, concentrating, and yes, being upset will naturally cause you to use the muscles above your eyebrows and eventually form anger lines.
Through the use of Botox® Cosmetic, Dr. Nakatsui is able to help these frown lines fade yielding a more pleasant and more youthful appearance. Botox Cosmetic® can also be used to get rid of the horizontal lines on your forehead and the crows feet we get on the sides of our eyes.
Dr. Nakatsui personally performs all of the Botox® Cosmetic injections. There are no nurse injectors for fillers or Botox at the Groot DermaSurgery Centre. If you would like to book a free consultation with Dr. Nakatsui please fill in the form or contact our office at (780)482-1414. Thank you and have a great day!