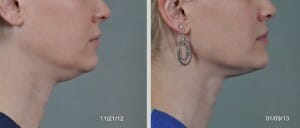 No matter how hard your work out or how well you eat, your double chin can remain in place.  Age, genetics, and other factors can cause additional fat/skin to deposit under the chin giving the appearance of a double chin.
Historically, the only way to improve a double chin would be through a face lift surgery.  The face lift surgery is still a great option, however it can have a lengthy downtime and many individuals do not want to undergo an invasive surgery.
ThermiTight™ is the newest in non-invasive procedures in which Dr. Nakatsui is able to deliver controlled thermal energy under the skin in order to reverse the effects of aging.  ThermiTight™ is able to sculpt the troublesome area under the chin and tighten loose skin drastically improving the double chin appearance.
The majority of patients only require a single session. While every patient is unique and individual results may vary, most patients experience dramatic improvements in skin laxity and the appearance of age lines after just one treatment. Patients continue to experience improvement in appearance for months after their procedure and ThermiTight™ results have been proven to last for several years.
If you would like to book a free consultation with Dr. Nakatsui please call our office at (780)482-1414 or you can book online for an appointment.  Thank you and have a great day!
For your convenience, Botox and filler appointments, as well as Coolsculpting, Thermitight, and HydraFacial MD appointments can be booked directly online or by calling the office directly at 780-482-1414. There is a $100.00 refundable deposit required to reserve an appointment using the online booking service (please note there is a $20.00 administrative fee deducted from this deposit). If you cannot find a convenient time using the online scheduler, please call as there may be additional appointment times available that are not visible online.
For all other services, please call to schedule an appointment.
Fields marked with an asterisk (*) must be filled out to complete this form.