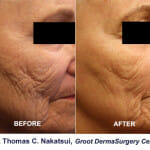 Through the advancement of laser technology, fine lines, wrinkles, and scars can become a thing of the past! Fractional lasers such as Fraxel and Pearl Fractional place tiny holes deep in the skin selectively removing columns of damaged tissue leaving the surrounding skin intact. Patients see an improvement in photo damage, tone, and texture, as well as a noticeably smoother and brighter complexion. The Pearl Fractional is often combined with the Pearl to achieve maximum benefit (Pearl Fusion). The photo shows one of our patients after one treatment with Pearl Fusion. Additional benefit can be seen with more treatments.
Read more about our treatments for photoaging and learn how to rejuvenate your skin or you can call our office at (780) 482-1414 to book a complimentary consultation.
For your convenience, Botox and filler appointments, as well as Coolsculpting, Thermitight, and HydraFacial MD appointments can be booked directly online or by calling the office directly at 780-482-1414. There is a $100.00 refundable deposit required to reserve an appointment using the online booking service (please note there is a $20.00 administrative fee deducted from this deposit). If you cannot find a convenient time using the online scheduler, please call as there may be additional appointment times available that are not visible online.
For all other services, please call to schedule an appointment.
Fields marked with an asterisk (*) must be filled out to complete this form.
Fraxel