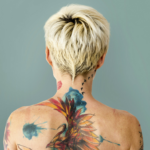 We've heard it all before: a woman falls deeply in love with her boyfriend, Kevin, and decides to have his name tattooed across her arm only to become heartbroken the following week. She is now stuck with this unwanted tattoo across her arm.
Years ago, she only had a few options: live with the regret and have his name forever inked on her skin, or try to cover it up with a second tattoo on top of her current tattoo. Various creams have been suggested; however, many of them were either ineffective or, worse yet, caused scarring due to the strong nature of the creams.
The newest and most advanced technique for removing unwanted tattoos is with laser therapy. At the Groot DermaSurgery Centre, we use the Q-switch Alexandrite laser. Various lasers are used for various conditions such as excessive hair, mole removal, or unwanted blood vessels. Each one of these conditions will require a different wavelength light.
Specific to tattoos, the laser penetrates the skin at a specific wavelength with the goal of breaking pigmented particles. Your body's immune system then removes these pigmented particles over time. After a few treatments, the tattoo can potentially be completely erased from a person's skin.
As with any procedure, especially those that involve lasers, it is always important to be aware of the risks and precautions surrounding the treatment. Regarding laser therapies for tattoo removal, one potential risk is hypopigmentation, or the loss of colour, of the skin. Or conversely, a person may get hyperpigmentation, or the increase in pigmentation in the skin. The laser used in tattoos cannot distinguish between naturally dark pigmented skin and a tattoo, therefore, when the tattoo is being removed, surrounding skin can potentially be affected as well.
At the Groot DermaSurgery when consulting an individual about tattoo removal, we highly suggest that the individual not have any tan in their skin before and after treatment for these exact reasons. As always, speak to a certified medical professional when dealing with any treatment. If you have any questions or you would like more information, please do not hesitate to contact the Groot DermaSurgery Centre and book a complimentary consultation for your specific needs or please visit this link.
*At the Groot DermaSurgery Centre we love Kevins and even employ a Kevin at our facility! We only used your name as an example*