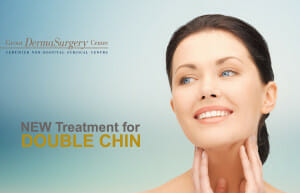 As we age, our skin begins to lose laxity to the point where we begin to notice areas of loose and dangling skin on areas such as our arms, abdomen, and neck. One of the most commonly complained areas of excess skin and fat from our patients is around the chin and neck, also known as the submentum. Because our face and neck are the most visible parts of our body that is seen the most, it can be the area that can be most bothersome, even though other areas may be affected.
The typical treatments for tightening and removing excess tissue and fat around the neck and chin is a face and neck lift surgery. This type of surgery is still the best option for overall improvement; however, many individuals do not want to go through with a surgery or cannot take the adequate time off after surgery. In recent years, new or improved technologies and treatments have come through to
help eliminate fat, or tighten the skin around the neck and chin.
Belkyra is a new injectable medication that is approved for the treatment and reduction of excess fat under the chin on the upper neck. In the United States, Belkyra is called Kybella. The treatment is non-surgical and non-invasive, and consists of a series of injections of deoxycholic acid, a naturally occurring molecule in the body that helps break down fat, into the problem areas.
CoolSculpting is a treatment that is typically associated with freezing away the fat cells of the abdomen. Recently, however, with the addition of the CoolMini, a new applicator that treats the double chin area, patients have noticed tremendous success and improvement to their unwanted double chin.
ThermiTight is the newest and most exciting technology for tightening loose skin! ThermiTight is a treatment whereby radiofrequency energy is applied below the skin's surface. This technology involves inserting a small probe under the skin so that thermal energy can be safely delivered to the fat and the tissue beneath the surface of the skin to tighten the area from underneath without endangering the overlying skin.
For some people, they love their double chins and find them endearing. For others that do not feel the same way about their double chin, there are options. Give our centre a call today at (780) 482-1414 to book a complimentary consultation with Dr. Nakatsui to discuss the various options and treatments for you.