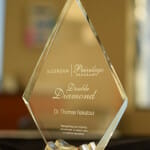 Dr. Nakatsui is one of a small number of solo physician injectors to have received Diamond and Double Diamond status from Allergan, the makers of Botox and Juvederm.
We are proud of having received this recognition but it is not essential to go to a Double Diamond provider to be certain you have an injector with expertise. When considering an injector, look for a practice that uses Botox and fillers every day. Ask about experience and training with Botox and fillers. Find out who your injector is–injectors are usually physicians, but can be nurses or pharmacists. At the Groot DermaSurgery Centre, Dr. Nakatsui personally performs all Botox and filler injections.
Be aware that Double Diamond status can be achieved by multi-physician groups and multi-location practices where Botox is distributed to multiple physicians and injectors. Therefore, not all Silver, Gold, Platinum, Diamond, and Double Diamond providers actually use the same amount of Botox or fillers.