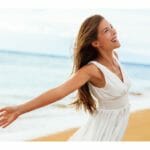 Do you feel like you look sad, tired, or angry even when you're not? If so, you are not alone. Some of the most common concerns patients have when they come into the Groot DermaSurgery Centre are that they look fatigued, upset, or depressed, even though they feel well rested, energetic, and happy. For many people, how they feel on the inside is not reflected on the outside. At the Groot DermaSurgery Centre, Dr. Nakatsui can help you understand the cause of your concerns, discuss those concerns, and help determine a game plan to revitalise your appearance.
As we age, skin elasticity is lost and the skin becomes less firm. Years of expression cause wrinkling to form around the eyes and forehead. Excess sun exposure causes changes in skin texture. The natural fat pads beneath the skin that give the face shape begin to shrink and shift, resulting in loss of fullness. Even our bone density diminishes around the cheeks, chin, and temples, resulting in a hollowed appearance. Weight loss causes areas of the face to become sunken and appear less full and youthful. All of these factors affect how we look.
Understanding these anatomical changes is important as it allows Dr. Nakatsui to determine how to reverse them. Understanding how facial muscles work in conjunction with fat pads and bone structure determines where a filler or Botox should be used. Dr. Nakatsui employs a variety of treatment options and techniques tailored to your specific situation and goals. As the concept of aesthetics expands, it is no longer just about treating lines and wrinkles, but rather revitalizing specific areas of the face to meet the end goals of trying to look less fatigued, angry, or sad.
If you would like to book a complimentary consultation with Dr. Nakatsui please contact our clinic at (780) 482 – 1414 or you can book an appointment online following the link below.
For your convenience, Botox and filler appointments, as well as Coolsculpting, Thermitight, and HydraFacial MD appointments can be booked directly online or by calling the office directly at 780-482-1414. There is a $100.00 refundable deposit required to reserve an appointment using the online booking service (please note there is a $20.00 administrative fee deducted from this deposit). If you cannot find a convenient time using the online scheduler, please call as there may be additional appointment times available that are not visible online.
For all other services, please call to schedule an appointment.
Fields marked with an asterisk (*) must be filled out to complete this form.
Please note that you WILL receive a confirmatory email upon successful completion of this online request. If you do not receive a confirmatory email, please contact our office by telephone to ensure that your request was successfully completed.