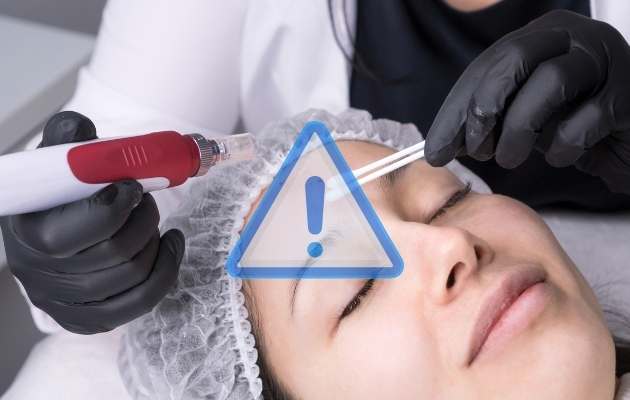 What is a Hyaluron Pen?
A hyaluron pen is a device that inserts hyaluronic acid filler into the skin using pressure. They are being sold and used by several manufactures, spas, and estheticians. These are also known as hyapens, fog injection devices, SERA pens. and nebulizer injector guns.
These pens are medical devices first designed to help administer insulin and use pressure technology to insert agents into the skin. They are heavily marketed as needle-free and painless. Consumers are being told that the pens can help create volume for lips, nasolabial folds, marionette lines, frown lines, and forehead wrinkles.
Is the Hyaluron Pen Safe?
The Hyaluron Pen is not entirely safe. As with any device, it carries potential risks. Potential side effects of the Hyaluron Pen include:
Hematomas
Abscesses
Inflammatory skin reactions
Staining of the skin
Damage to skin, eyes, or blood vessels.
Consumers are being told there is no risk of vascular (blood vessel) occlusion but the hyaluron pen can occasionally cause damage to the blood vessels. If this should occur at home or in a spa, who is going to manage this? Does the aesthetician know what to do to minimize the magnitude of the injury? Does the aesthetician have the correct medication available in the spa to quickly address the issue?
Safety Advisories
In September of 2019, Health Canada issued a recall and safety alert regarding Hyaluron pens and does not authorize the sale of any needle-free dermal filler devices in Canada. Heath Canada states it is illegal to advertise, import, or sell these devices. Despite this, many spas continue to offer it. If you are aware of a violation, you can report it here.
In February of 2021, the American Society for Dermatologic Surgery Association has issued a Patient Safety Alert regarding the Hyaluron Pen and its dangers to kids. Members have observed social media postings with videos of kids self-administering these pens. This is potentially very dangerous and if you have a hyaluron pen in the home, please keep it away from your kids.