---
---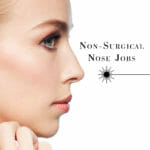 For many men and women, a nose that fits the symmetry and dimensions of their face can be an important aspect in their lives. The nose is the most central and prominent aspect of a persons face and it is able to bring together all of the features of a person's face like beautiful symphony.
Dermal fillers such as Juvederm and Restylane offer fantastic options to help augment portions of your cheeks, lips, nose, and chin! Dr. Nakatsui, dermatologist and Medical Director at the Groot DermaSurgery Centre, is able to use dermal filler, such as Juvederm, to augment portions of the nose.
Through careful and precise injections, Dr. Nakatsui is able to correct minute bumps, imperfections, and even enhance your nose bridge. Dermal filler nose augmentation is a great non-surgical option for those wanting to address certain issues they have with their nose with minimal downtime. It is also a great treatment for those who already had a previous rhinoplasty procedure and would like to correct minuscule imperfections.
If you have any questions or you would like to book a complimentary consultation with Dr. Nakatsui, please contact our clinic at (780) 482 – 1414.
...Read More