---
---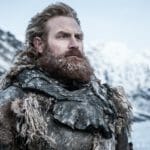 In today's society having a full and lush beard is becoming more and more of a fashion statement for men. While some men are born with thick facial manes, others require treatment to aid in thickening up their beards.
Not all men are lucky like actor Kristofer Hivju (photo), more popularly known as Tormund from the HBO hit show, Game of Thrones (most of the staff at the Groot DermaSurgery Centre are very big fans of Game of Thrones).
Dr. Thomas Nakatsui, a board certified Dermatologist and hair transplant specialists, has been performing hair transplants for over 18 years. The exact reasons why men come in for a beard transplant vary.
Some men want to increase thickness, while some men have suffered some form of trauma that caused an area to scar, therefore leaving a portion of facial hair missing.
As with any hair transplant, artistry plays a major role in how the end result turns out. Hair transplants need to look natural and undetectable in appearance. Old forms of hair transplants, "plug transplants", have yielded unnatural and very detectable results.
Having undetectable results is even more paramount whenever dealing with the face as it is always front and center.
...Read More