---
---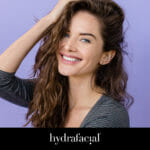 This Valentine's Day look your best that special someone. HydraFacial MD is an effective, non-invasive, multistep treatment that combines the benefits of next-level hydradermabrasion, a chemical peel, automated painless extractions (no pinching!) and a special delivery of Antioxidants, Hyaluronic Acid, and Peptides. It does all of this in one quick treatment that delivers real results without downtime or irritation. HydraFacials are great for both men and women!
Traditional treatments for the aging face include creams, chemical peels, microdermabrasion, photofacials, and laser resurfacing. HydraFacial MD® is a welcome new treatment option as it offers more improvement than traditional treatments such as chemical peels and microdermabrasion without the downtime of laser resurfacing.
Experience Vortex Technology™
The unique spiral design of the HydroPeel® Tips used in conjunction with the HydraFacial MD® proprietary vacuum technology and serums creates a vortex effect to easily dislodge and remove impurities while simultaneously introducing hydrating skin solutions with potent antioxidants. This multi-step process includes Vortex-Exfoliation™, Vortex-Peel™, Vortex-Extraction™, Vortex-Boost™, and Vortex-Fusion®.
What Are The Benefits Of Hydrafacial MD?
Hydrafacial MD cleanses, evenly exfoliates, and extracts to remove impurities and dead skin cells while at the same time replenishing vital nutrients into the skin.
...Read More